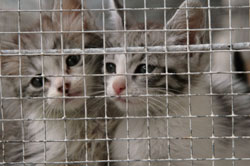 Fairview Animal Hospital is very proud of the pet care provided in our boarding facility.  All of our kennels are climate-controlled and we have spaces that are the perfect size for your pet – small kennels up to extra large runs.
We feed your pet twice a day.  Unless you choose to bring food from home, your dog will dine on Royal Canine Gastrointestinal Low Fat food and your cat will enjoy either a Royal Canin or Hills Science Diet product.  Of course, we provide fresh, clean water around the clock!
Because boarding dogs frequently experience stress-related diarrhea, we also add Florazil+ Multi-Probiotic Food Spray to their food.  This product contains an assortment of probiotics that work to aid your dog's digestive process, reducing the occurrence of gastrointestinal issues.
For your planning:
1) Remember that your pet must be dropped off and picked up during our regular business hours.  Unfortunately, we cannot accommodate requests to pick up pets when we are closed.
2) First time boarders must have a (free) temperament test before they board.   You may drop your pet off for this approx. 2 hour test but we do require an appointment.  Please call 770-389-9757 to schedule.
3) If you have requested a bath before your pet goes homes, remember to pick up after 4:00 pm so your pet will be dry for you.
Boarding Reservations may be made by calling our office at 770-389-9757. Complete a Boarding Form and submit it prior to your appointment to save time when dropping off.
Make sure to pick up one of our Frequent Boarding Club cards.  Get one credit for every night of boarding.  After 10, the next night is on us!
Click here for more information about our Traditional Boarding Services.
Click here for more information about our Deluxe Boarding Services.