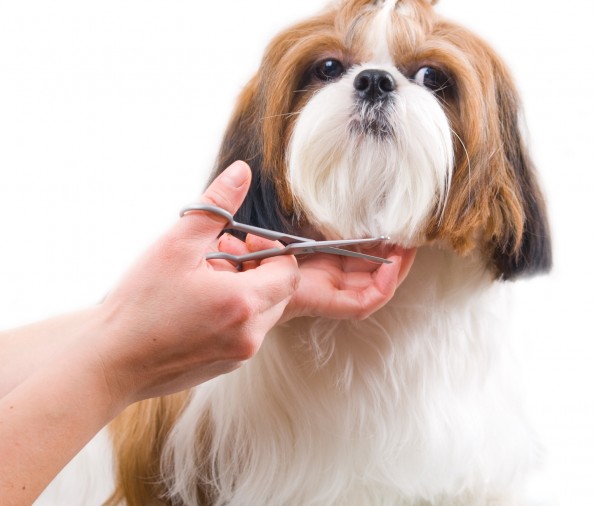 We offer full grooming services to our clients in the Ellenwood, Rex, Stockbridge, Morrow, Jonesboro, Conyers, Decatur area.
Our awesome groomer, Valerie Sims, moved to Atlanta from Washington DC to attend vet school. Soon she realized she would rather open her own grooming business, which she still has today. She has been grooming since 1983 and our clients and pets love her! We are honored to have her on our team.
Currently grooming is available on Tuesdays only. Because she is only here for a few hours, spaces will fill up fast. Please make your reservations early! (Click here to make an appointment.) You may review our Grooming Policy here. To save you time, feel free to print a copy and bring it to your first grooming appointment.  (You will only need to do this once.)  Each time you bring your pet in, we will need to collect information from you about your grooming preferences.  If you prefer, you may save time and submit our Grooming Form in advance of your appointment.
You can drop off 7:30-8:30 am and pick up 5:00-5:30 pm, unless contacted by our staff to let you know your pet is ready earlier.
Grooming services include complete haircut of owners' choice, nail trim, sanitary trim (depending on breed), external anal gland expression, basic ear cleaning and pluck, bath. The prices are as follows:
Cats – 60.00+
Dogs 5-10 lbs. – $50-.00-$55.00
Dogs 11-20 lbs. – $53.00-$61.00
Dogs 21-36 lbs. – $58.00 – $66.00
Dogs 37-59 lbs. – $62.00 – $72.00
Dogs 60+ lbs. – $77.00 and up
All grooming prices depend on the size of the pet, condition of the coat, style of cut and length of hair.
Any pet that has to be muzzled or sedated will be charged an additional handling fee along with the standard grooming charge.
Owners with female pets that are in heat are requested to delay grooming until pet is out of heat. If the pet is groomed while in heat, there will be an extra fee added to the standard grooming charge.
If it is determined that an internal anal gland expression is required to completely empty the glands, there will be an additional charge of $18.00. (This is a medical procedure and must be done under the direct supervision of a licensed veterinarian.)
Other additional charges include:
Furminator – $8.00 – $10.00
Medicated Shampoo – $6.00 (if we provide the shampoo)
We accept cash and all major credit cards but we do NOT accept checks. If you wish to tip your groomer, the tip must be paid in cash.