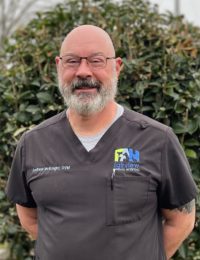 DVM
Dr. Andrew McKnight merges exceptional veterinary skills with a passionate dedication to fostering the bond between humans and animals. He was recently asked what keeps him coming to work everyday. In response, he said, "People don't think of their pets as 'pets' – they are members of their family. I love promoting and encouraging that relationship. Pet owners honor us when they invite us into a partnership with them to love and care for their pets. It is a privilege we do not take lightly."
Dr. McKnight dreamed of becoming a veterinarian from a very young age. Because of his dedication to that goal, he excelled academically. He went to high school at Woodward Academy in College Park and graduated from Auburn University (War Eagle!) in 1993. He began working at Fairview Animal Hospital as an Associate Veterinarian in 1994 and bought the practice in 1999.
Dr. McKnight is committed to giving back to the community. He frequently speaks at local schools and participates in community fairs. He also does pro bono consulting for Henry County Animal Control and is frequently called to investigate animal cruelty cases. He is the lead veterinarian for the Henry County Disaster Preparedness Team for HCAC. He and his wife are passionate about providing assistance to veterans who suffer from PTSD and created their Vets FUR Vets program to provide free preventive veterinary care for PTSD service dogs. Click here to read more about the program they created.
In addition to being a full-time veterinarian, he serves on the Board of Directors for the Southern Crescent Animal Emergency Clinic, in Fayetteville, GA. Further, he is credentialed to perform stem cell therapy, utilizing cutting-edge medical technology.