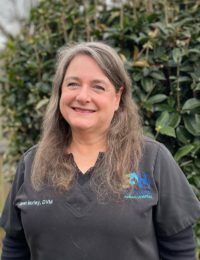 DVM
As a young girl, Dr. Janet Morley knew two things: she wanted to be a veterinarian, and she loved horses. As she grew, she combined her dream with her passion and set out to become an equine veterinarian. Once she was in vet school however, a series of events re-shaped her dream and she decided to focus her talents and abilities on companion animal care instead. She still maintains a love of horses and has owned several over the years.
Dr. Morley grew up in Indiana and received her BS and DVM from Purdue University. She has been practicing veterinary medicine in the metro-Atlanta area since 1991 and joined the Fairview Animal Hospital family in 2006.
Dr. Morley is thorough and highly-detailed, making her an exceptional diagnostician. She has a passion for internal medicine and excels when she is faced with a complex case and a challenging diagnosis. She is a skilled surgeon and she has a particular interest in opthomology and behavioral counseling.  She has tremendous drive and, though she works full time at Fairview Animal Hospital, she also works one day a week at another clinic and does relief work when possible.
Dr. Morley is wholly dedicated to finding the best solution for her patients, going beyond traditional remedies when appropriate. She believes that "seeing your pet as a whole" is critical to its overall health, and utilizes alternative treatment methods when they will benefit the pet. Laser therapy, chiropractic, acupuncture, homeopathic and nutritional care are all a part of her comprehensive approach to providing the best care for your pet.
On a personal note, Dr. Morley is a committed conservationist. And when she is not working, (which is almost never!) she and her partner enjoy spending time on their pontoon boat on Lake Oconee, and they love to travel abroad.